The presence of swimming pools in your home is a luxury –especially if you are living in a hot, tropical climatic zone.  When you have to deal with scorching summer heat, swimming pools in your home can serve to be a great respite from excess heat outside. Additionally, these additions to the house also help in boosting the overall aesthetics of your home.
When you wish to be assured of ultimate safety and durability around the pool area, pool coping is an important aspect to consider. The edge of the pool is one of the most important, yet dangerous places around the pool area. While you dive in and get out of the pool using the edge of the pool, it is important to ensure that the area is slip-proof and safe at the same time. This is wherein the role of pool coping comes in.
"Dove White Granite Pool Coping Tiles"
Why Use Granite for Pool Coping?
The area around the pool is required to be secure and durable at the same time. This is the reason why natural stones are highly preferred for pool coping. Out of all the available options, granite tiles Perth are highly recommended by the experts. Granite is quite famous for being utilised by construction and landscaping projects –especially outdoor applications all around the world. In fact, granite has been a famous option amongst architects and landscaping experts for several thousands of years.
If you are considering a pool coping project, and wish to obtain maximum returns out of the same, here are some of the top reasons for using granite pavers or tiles for the purpose:
#Aesthetically Appealing
Granite is known for its impressive natural beauty due to its natural origin. Due to the same, granite features an array of colours including black, white, off white, pink, grey, tan, browns, and so more. Moreover, there is the presence of varying blemishes and grains in the stone as well.
All of these factors help in enhancing the overall aesthetics of the pool area when you use granite as the pool coping material. When the stone is being used wisely in the pool area, it helps in adding a unique charm to the existing landscape.
#Highly Durable
Another major reason to use granite tiles Sydney is that it is highly durable amongst other options of natural stones available out there. Granite stones are known to be typically hard on the surface. Therefore, they are able to withstand heavy loads and pressure. While granite tiles Melbourne are highly preferred in areas like driveways and walkways, these are also utilised around the swimming deck. Coping with granite helps in keeping the overall appearance intact even after day-to-day wear & tear.
#Safe & Secure for the Swimmers
Natural stones like granite are known to be subject to a different degree of finishing and polishing treatments. Therefore, you can consider keeping the surface of the pavers or tiles slip-resistant. Moreover, granite tiles Adelaide are known to be slip-resistant by default nature. This prevents wet legs from getting slipped as you enjoy swimming.
When you have installed granite pavers wholesale for pool coping, it allows the swimmers to take a long or short run easily while trying out different diving moves. Moreover, even during rainy days, you can look forward to walking around the pool deck easily without the fear of slipping.
Types of Granite Pool Coping Tiles
When it comes to granite pool coping, there are multiple options to choose from. Given its wide range of colours naturally and patterns, there are various types of granite pool coping pavers to choose from. Some of the highly sought-after options in Australia homes are:
"Smokey Quartz Pool Coping Tiles"
Bullnose Coping: This type of pool coping using granite tiles features a unique shape –slightly rounded. The rounded side of the coping area is designed to serve as the exposed edge in case some hard cover might not be applicable. The best part about bullnose coping with granite tiles is that it is available in multiple colour blends for matching or contrasting the rest of the pool deck or area.
Square Edge Coping: This type of pool coping design can be arranged in multiple designs and formats to suit the specific preferences of the customers. There are unique options for colours, patterns, and finishes as well. The coping can be done to suit both internal as well as external corners, straight edges, and step risers. Additionally, square edge coping is highly slip-resistant and water-resistant for improved safety around the pool area.
Aris Edge Coping: In architecture, "arris" is referred to as the sharp edge that is created at the intersection of two surfaces. In pool coping, this type of granite coping delivers improved aesthetics and functionality at the same time.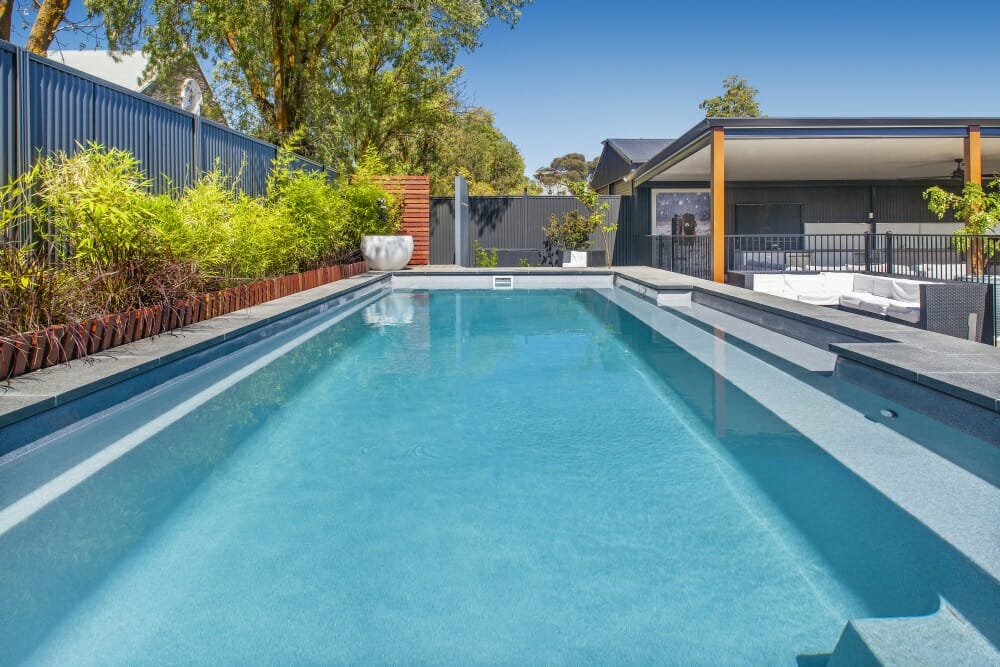 "Grey Granite Pool Coping Tiles"
Drop Face Coping: In case you are looking for a seamless finish around the pool area, then drop face pool coping with granite pavers is regarded as the best option out there. This type of coping fits around the edges of the pool while hiding the rim. This enables the surface of water to glow.
Conclusion
Granite Pavers Australia deliver granite tiles and pavers all across Australia (Melbourne, Sydney, Brisbane, Canberra, Adelaide and Hobart). Get tiles from Australia's best Natural stone Tile Suppliers. Call today on (03) 9706 9767 for orders or any information related to your natural stone pavers.
We provide EXPRESS POSTED FREE SAMPLES + FREE QUOTE + FREE EXPERT STONEMASON ADVICE for all your tiling need. Get in touch with us today!